Longer Paddles and Down-winders
Once you have done your beginner lesson and are reasonably comfortable on a SUP Board, we can try many different things to keep you interested.
I offer you a guided tour and review of your basic stroke technique with an intermediate lesson.
We can try you on smaller boards (to challenge you and your core) and teach you a couple of advanced turning techniques and strokes.
Once you've paddled a few times and you want to try something more challenging, I offer longer paddles and "Down-Winders".
A down-wind paddle is a guided, one-way paddle from one point to another. No return trip against the wind!
While this sounds easy, they usually rely heavily on core strength as the route is generally more "off-shore" with wind and chop thrown in to up the difficulty.
Transport logistics aside, these paddles are usually done along the South Coast at different distances according to paddlers' fitness or stamina.
They are also a great way to see many of the coasts from the sea in one go, and turtle sightings are frequent. Sting-rays sometimes make an appearance!
Locations: South Coast from Dover to Pebbles
Best Time: Mornings from 9 am to 11 am
Requirements: You must be able to swim well and in good physical shape.  Previous SUP experience is essential. It would help if you were confident in paddling through small to medium waves and had good core strength and balance.
What to bring: Rashguard or Sunscreen is highly recommended. A hydration pouch like a "Camel Bak" is also recommended. Bring a towel and change of clothes to put in my "Drybag."
Paddling For Fitness and Fun!
Suppose you are looking to paddle frequently and want to make Stand-Up-Paddling part of a fitness regime. In that case, I am also Paddle Fit Certified, and I can recommend several ways for you to use the board, not only for Paddling but also for an excellent full-body workout.
(See the link below: https://www.paddlefitpro.com/
Locations: West Coast or Carlisle Bay
Best Time: Mornings or Afternoons
Requirements: You must be able to swim and be in relatively good shape. Previous SUP experience is highly recommended, but at the least, a beginner SUP Lesson is required.
What to wear: Bikini with board shorts or "boy shorts" for girls and board shorts for guys are recommended. Bring a towel and change of clothes in case you fall in. I will provide a cool bottle of water for after your class.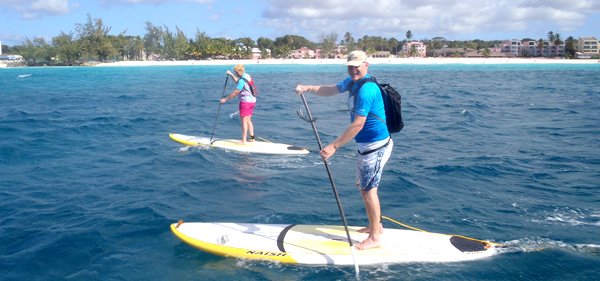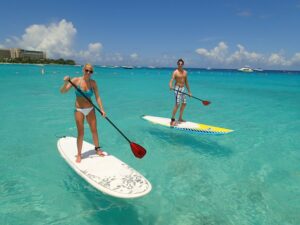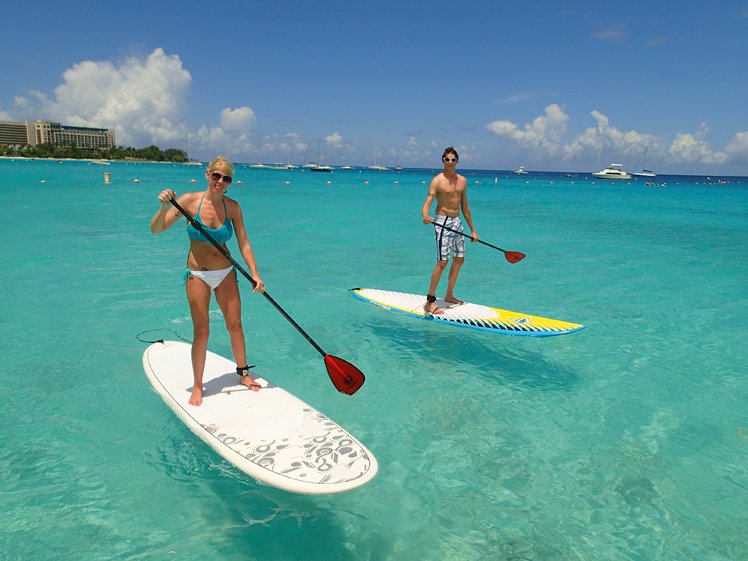 Our Instructors are WPA (World Paddleboard Association) Certified and are locals with extensive knowledge of the island and surrounding waters.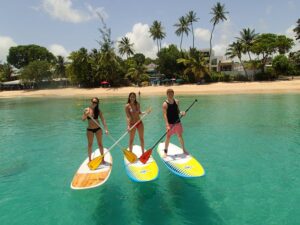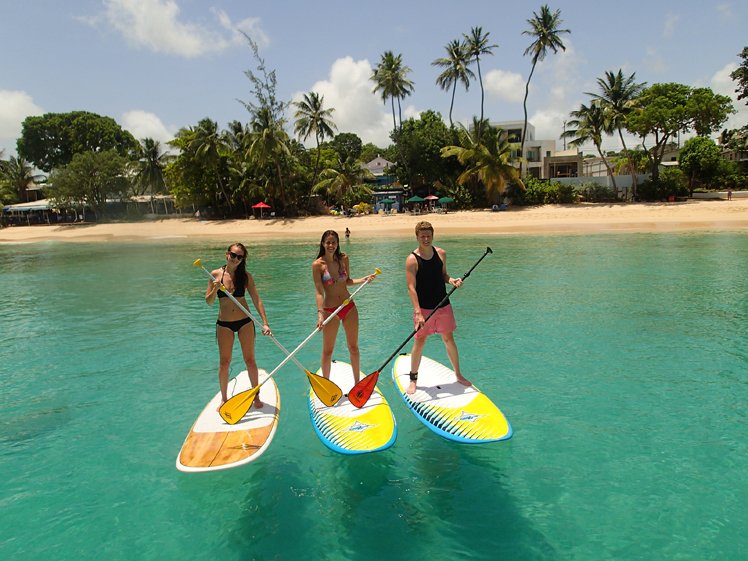 Short Term and Long Term Board Rentals – If you have done some SUP'ing before and want to rent a board and go at your own pace, contact me and grab a board and go!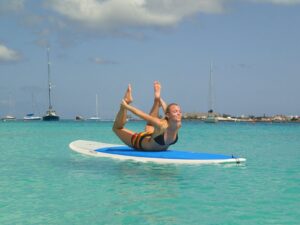 SUP Yoga is essentially yoga on a Stand Up Paddleboard in the water. It can be challenging but a fun way to energize and transform your yoga.